— worked together during 2020
Meal Studio is a startup project, with a mission to reduce food waiste in the home and make preparation of meals easier. Founded in 2018 in NJ USA,  the client turned to our agency for help to build this idea into reckognisible brand.
Mdeus developed Meal Studio website and provided consulting services for maintaining and strenghening digial presence of this brand. A special algorithm was created for this website. At the same time, Mdeus team focused on brand and business development, social media management, content managemenet and additional support in brand building. We have designed an application linked to the website, providing users a unique experience in purchasing, preparing and consuming food.
Unique algorithm:
We have created a special mechanism and an advanced algorithm, which makes it easier for visitors to navigate through a large database of recipes that make up the main content of this website. Visitors are able to follow recipes that show the ingredients, nutritional value and user rating, with plans for detailed videos and guides on how to prepare them.
Design and development:
The design of the website is unique,  visually attractive and in line with the idea and main vision of the client. This meant creating a unique logo, with colors dominating in the overall design. Navigation menu and drop down menu help to classify all recipes and other content on the website.  Slider with selected recipes in the header helps to speed up the visualization of the content. The site also contains a side bar with a search filter by inserting keywords, recipes arranged chronologically, and a newsletter for visitors.
User centricity:
We have specially designed a Blog page, where each blog post has the ability to leave comments to encourage interaction. Our team also created social networks and promoted them in order to increase the number of visitors to the website. Finally, we created an application for the client that has a strong focus on the user experience and uses  feedback, AB tests and machine learning.
Encouraging good habits:
The application monitors the user's eating habits, and food in the refrigerator, so he can offer the user alternative recipes, in order to know which food is still good and how long it can be used, and which additional foods the user should buy.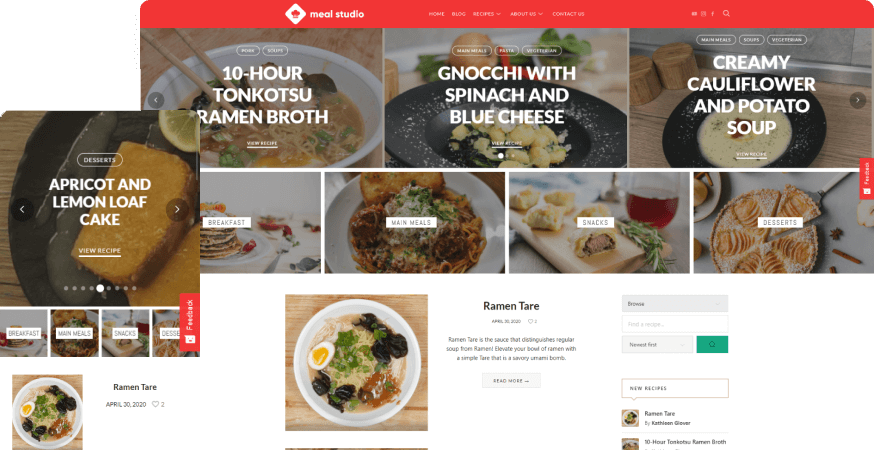 Successful implementation of content algorithms:
We have got an functional website, creating an agorithm and  content which has been channeled on many levels.
Design:
The website is visually attractive, easy to navigate, because targeted visitors react to what they see immediately. Our team has managed to achieve just that,  by implementing various design solutions. We have also developed a modern, very intuitive application, visually attractive, and yet very easy to use, in order to provide users a unique experience.
Responsive website:
The website is designed and constructed correctly, so the content  displayed equally efficiently on all devices.
Successful optimization:
The website has been optimized and now it rangs very well in the Google search engine.
Meal studio is a project that has achieved great popularity on reddit so far, where it has 18.5 million views. When we look at the message that this project sends, this is not surprising. Using the large database of  recipes, will not only influence the reduction of food waste, but also our thinking in terms of meal planning and nutrition.
Schedule a meeting or conference call from